Notification
AHSEC Answer Script Rechecking
Assam Higher Secondary Education Council (AHSEC) 2022 has recently released the Assam HS Final Examination 2022 results on 27th June 2022. Candidates who are not satisfied with their result/s may apply online at AHSEC Answer Script Rechecking Portal for re-totaling & reassessment of their answer scripts. The online "Punarikshan" process for Re-checking of Answer Scripts of AHSEC HS Final Exam Result 2022 will start from 30th June 2022.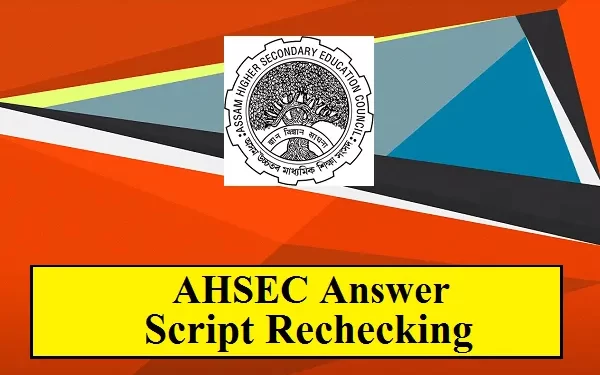 AHSEC Answer Script Rechecking Details
| | |
| --- | --- |
| Name of exam | HS Final Examination, 2022 |
| Name of council | Assam Higher Secondary Education Council |
| Class/ Standard | 12th Board |
| Streams | Arts, Commerce, Science and Vocational |
| Dates of exam | 15th March 2022 to 12th April 2022 |
| Type of exam | Written Examination |
| Date of declaration of result | 27th June 2022 at 9 AM. |
| Helpline | In case of any difficulty in online application submission, an email may be sent to itahsec@gmail.com. |
Salient features of AHSEC Answer Script Rechecking

:

➢ Here is a number of important points regarding AHSEC Answer Script Rechecking 2022:
◉ There shall be no rechecking of practical papers.
◉ Re-checking shall be allowed maximum in 3(three) subjects
◉ Results of re-check /re checking will be communicated to the Head(s) of the Institutions only and the candidates who apply for re-checking will collect their results from there.
◉ Candidates desiring Re-checking of answer scripts should submit applications through online mode.
Recheck of Answer Scripts involves following:
A. Re-totaling of marks awarded by the examiner.
B. Assessment of answer(s) left out unevaluated by the examiner.
How to Apply for AHSEC Rechecking

?

➢ Candidates who want to recheck his/her answer scripts have to apply online for rechecking of answer scripts by using below mentioned steps:
◉ Step 1: Scroll down, check Important Web Link's section.
◉ Step 2: Click on AHSEC Answer Script Rechecking Apply link.
◉ Step 3: Official online application portal "Punorikshan" will be opened .
◉ Step 4: First register yourself using you Roll, Number and Mobile Number.
◉ Step 5: Next, Log-in using newly generated username and password.
◉ Step 6: Fill all personal details including Roll No and subject details.
◉ Step 7: Make payment of application fee via online or deposit at Assam Co-operative Apex Bank Ltd. branches as required.
◉ Step 8: At the end, submit your application.
Important Dates of AHSEC Answer Script Rechecking 2022

:
◉ Starting date of submission of online application: 30th June 2022
◉ Last date of submission of online application: 10th July 2022, 5 PM
◉ Last Date of deposit of e-challan at the Assam Co-operative Apex Bank Ltd. branches: 11th July 2022
Important Web Links of AHSEC Answer Script Rechecking

: Join Whatsapp Group
◉ AHSEC Answer Script Rechecking : Click Here
◉ Official Notification : Click Here
◉ Official Website : Click Here