Notification
Assam Higher Secondary Admission 2021
Assam Higher Secondary Education Council (AHSEC) is soon going to launch a platform called the "Darpan", basically an online web portal for Assam Higher Secondary Online Admission process to be started from 11th August 2021. Students who have passed HSLC exam this year may apply online for first year courses under Assam Higher Secondary Education Council for the academic session 2021-2022.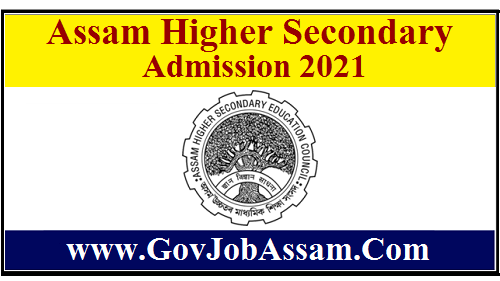 Assam Higher Secondary Admission Details
Name of class:
Higher Secondary 1st Year (11th Standard)
Name of council:
Assam Higher Secondary Education Council (AHSEC)
Academic session:
Head Office:
Bamunimaidam, Guwahati-781021
Name of online portal:
Application process:
Official website:
Assam HS Admission 2021 Website

:
Assam HS Admission 2021 for Higher Secondary 1st year classes will be completed through "Darpan", the common portal for online HS admission, to be available on AHSEC's official website http://www.ahsec.assam.gov.in .
The principals of colleges, HS schools and senior secondary schools, willing to avail this facility, can register for the same in online mode.
For participation in the process, Institutions with valid AHSEC codes have to create their profiles by providing their Institutions' details into the portal by visiting www.darpan.ahseconline.in or www.ahsec.assam.gov.in .
Join Whatsapp Group
How to Apply for Assam HS 1st Year Admission

?
➢ Students want to get admission into the Higher Secondary 1st year courses in different Institutions including Universities/ Degree Colleges/ Senior Secondary Schools/ Higher Secondary Schools under the AHSEC must apply online. They may follow below mentioned steps to submit their applications online.
1st Step: Scroll down, check Important Web Link's section.
2nd Step: Click on HS 1st Year Online Admission link.
3rd Step: A portal will load, Login using your HSLC/AHM Roll No. and Date of Birth (as per Admit Card).
4th Step: Select your institute and fill up the online form.
5th Step: Upload scan copy of photograph, signature and necessary documents.
6th Step: Take a print out of the filled up form, and keep for future reference.
7th Step: Please do check the portal regularly for updates. You will be notified through the portal which institution(s) you have been selected for admission.
➢ Above steps are elaborated based on last year online application process. Pl wait for official notification for the year 2021-2022.
Assam HS 1st Year Admission Merit List

:
The category-wise Assam HS Admission 2021 Merit List will be available within 31/08/2021. The merit list will be published by the concerned institutions.
Important Dates of Assam HS Admission 2021

:
Registration by institutions: 04/08/2021 to 13/08/2021
Online registration by students: 16/08/2021 to 31/08/2021
Publication of category-wise merit list by institutions: Within 05/09/2021
Important Web links of Assam Higher Secondary Admission

:
Important Facts of Assam HS Admission

:
➢ Here is the some important facts and procedure about Assam Higher Secondary Admission –
The admission in the College /Schools shall be presently done on the basis of digital marksheet issued by SEBA. The authenticity can be examined through the Result Gazette published by SEBA. However, in case of doubt, the educational institution may seek clarification from SEBA. However, SEBA will arrange providing of Hard Copy of Marksheet/ Certificate at the earliest.
All such educational institutions shall have to first register themselves in the AHSEC web portal giving details of data as required by the portal.
All students shall have to register themselves in the portal using their Roll No. and choose maximum five institutions in order of their preference for admission. The data of students passed in HSLC/AHM Examination 2021 and Class X passed students of CBSE shall be pre-loaded in the portal.
The educational institutions shall be able to choose students from the portal and on getting approval by the institution, the students shall be able to lock his choice and take the admission.
The private schools presently imparting education up to Class X will be allowed to start Class XI in their schools, if so desired. However, they have to apply for registration to Director of Secondary Education, Assam under the Non-Government Educational Institutions (Regulation and Management) Act 2006 with a copy to AHSEC. On receipt of application both DSE and AHSEC will issue them provisional recognition to start class XI from this year.
(A) For ease of the Schools to apply, a ample application needs to be submitted by the educational institution to DSE, Assam along with a copy of permission already granted by DSE/ competent authority for imparting education up to Class X. On the basis of such application only, the DSE and AHSEC will issue Provisional permission of recognition, as the case may be forthwith for starting Classes for Class XI.
(B) However, in the meantime, presently such schools are also allowed to register themselves in the portal of AHSEC under the caption 'applied for'.
All educational institutions including colleges admitting students in Class XI shall have to provide admission in Class XI, only through the portal of AHSEC and not by any offline process.